UST's Artistang Artlets presents BOMBA (Yes, it's a musical)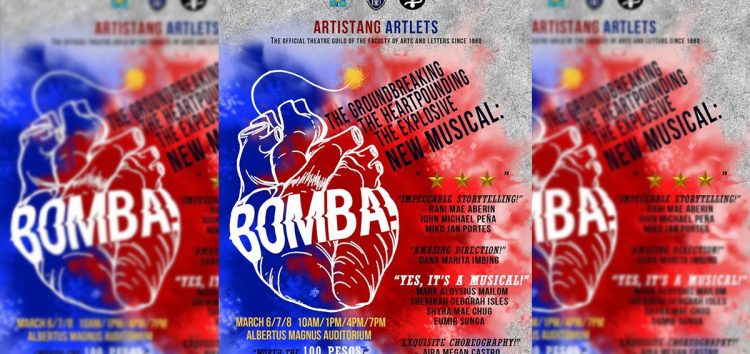 From March 6-8 at the 4th Floor Education Auditorium, Albertus Magnus Building, University of Santo Tomas (UST), Artistang Artlets, the theater organization under the Faculty of Arts and Letters of UST presents "The Groundbreaking, the Heartpounding, the Explosive New Musical: BOMBA (Yes, it's a musical)". The musical under the direction of Dana Marita Imbing with composition and music by Amethyst Chug, Eumir Sunga, Shekinah Deborah Isles and Mark Aloysius Mailom and under the choreography of Aira Megan Castro.
The musical features Rani Mae Aberin, Mark Aloysius Mailom, John Michael Peña, and Miko Jan Portes, and it follows the set up in the Philippines in 2117 whereas everyone is afraid to fall in love because of the device planted inside their body that stops them to feel love. Except for BomBayanis, a member of a different kind of terrorist who wanted to spread love to everyone and targets the President in order to deactivate the device that is stopping everyone from loving.
Catch UST's Artistang Artlets presentation of BOMBA (Yes, it's a musical) on March 6, 7, and 8, 2017 at 10 AM, 1 PM, 4 PM and 7 PM atthe Albertus Magnus Auditorium, Education Bldg., University of Santo Tomas. Ticket price is Php 100.