Noven Belleza is Tawag ng Tanghalan Grand Champion!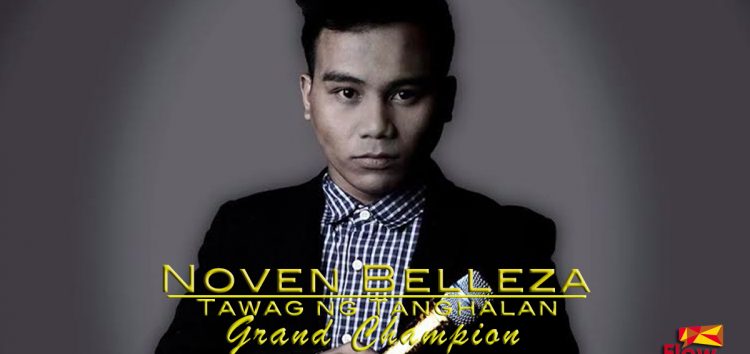 Immediately after the announcement of Final 3 of Tawag ng Tanghalan, Sam Mangubat Friolan Canlas and Noven Belleza gave their best ever performance at the Newport Performing Arts Theater in Resorts World Manila. Froilan gave a medley of Kuh Ledesma's hit songs followed by Sam with Bruno Mars ' and lastly Noven singing his heart out with Air Supply's iconic songs. In the end Noven from Negros Occidental emerges as the winner garnering total percentage of combined text and judges' votes of 99.96%.
Sam was second place and Froilan landed third place.
Noven entered Tawag ng Tanghalan in Quarter 3 and made it to the semi-finals. He and Eumee Capile entered the Grand Finals.
While Sam entered Tawag ng Tanghalan during Quarter 3 but was eliminated before getting to the semi-finals. He returned in Quarter 4 as a resbaker. He was with Froilan in the same quarter and moved in the grand finals with Carlmalone Mentecido was also a resbaker.
Lastly, Froilan entered Tawag ng Tanghalan during Quarter 4 and made it in the semi-finals. Unfortunately Sam won the semi-finals together with Carlmalone. He became part of the Ultimate Resbaker and made it to the grand finals with Rachel Gabreza.
Before the announcement to final 3, Sam performed Secondhand Serenade's Fall For You, while Noven with Rico J Puno's May Bukas Pa, and Froilan singing Up Dharma Down's Tadhana in the round 1.
Contenders included in the Top 6 were Pauline Agupitan from Batangas who performed Jennifer Hudson's And I'm Telling You, Carlmalone Montecido from Bacolod with Pananagutan and Marielle Montellano with Deniece Williams' Healing.
Votes for the final 3 were reset to zero. Viewers were only given commercial gaps to vote same with the judges.
The Grand Champion who will bring home Php 2 million pesos worth of cash, house and lot, a recording contract under Star Music, and a musical package from JB Music.