Rafael Miguel Bautista wins the Starbucks Philippines' 1st Barista Championship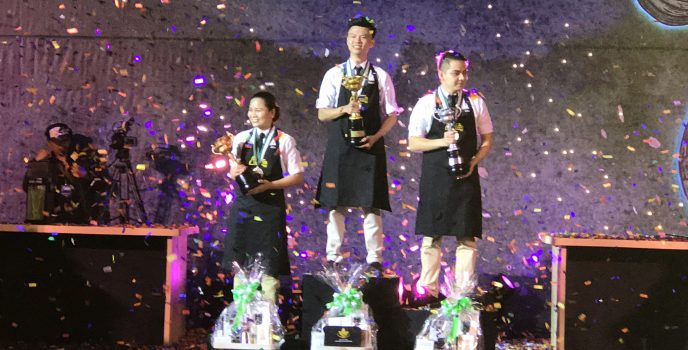 Your favorite Starbucks Barista is more than creating your favorite handcrafted beverages, they make sure that you will get what you truly deserve. From the right choice of coffee beans to the way they add their special touch on your latte or frappuccino. That's why Starbucks is bringing the First Philippine Barista Championship this year, following the success of the Starbucks Coffee Cup that they are doing every two years. The Philippine Barista Championship is different, it is more exciting. Imagining putting the contenders under pressure while working on the actual handcrafted beverages as they tell their Starbucks story. It is more than memorizing the name of the coffee beans or the number of the degrees on what the best espresso will come out.
The 1st Philippine Barista Championship happened at the in St. Ambrose Auditiorium or Colegio de San Agustin in Makati City. Six Coffee Masters emerges from the 300 contenders coming from Areas 1, 2 and 3. And the champion of the First Philippine Barista is Rafael Miguel Bautista from Starbucks Venice Grand Canal. Meanwhile Ces Ranillo (Starbucks Philcom) and Ana Mendoza (Starbucks 14 Jupiter) landed 1st and 2nd runner-ups.
Other contenders include Camille Joy Cuyugan (Starbucks SM Southmall), Emmanoel Bagan (Starbucks The Rock Holy Spirit Drive) and Carmina Fernandez (Starbucks The Sapphire Bloc).
During the competition the coffee masters are given 30 minutes each to showcase their knowledge on coffee through the Pour Over Cone coffee tasting and demonstrating Rossetta and freestyle latte art. The selection on the winner was based from the consistent delivery of Starbucks Experience.
The winner will bring home the 1st Philippine Barista trophy, gift packs, newest iPad Mini and the opportunity to compete at the Starbucks Regional Barista Championship to be held in Taiwan on March 27, 2017. The first runner up will play a vital role with the winner as the Starbucks barista support to the Philippines' delegate to the competition.