KFC Philippines, WFP "Add Hope" to 60, 000 kids in conflict-affected areas in Mindanao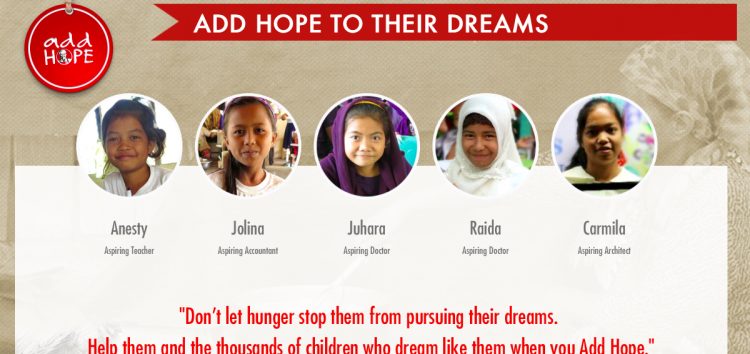 Continuing the global commitment of KFC Philippines to its partner World Food Programme (WFP), the world's largest humanitarian organization addressing hunger, promoting food security and disaster relief under United Nations, has raised Php 6, 798,811.61 though its Add Hope project. The said fund will be donated to WFP's School Meals Program, which provides hot, nutritious lunch meals to thousands of children from conflict-affected areas in Mindanao, enabling them to perform better in school.
The Add Hope project aims to support WFP's School Meals Program though the adding extra amount to your order for as low as Php 10. To participate in the Add Hope campaign, just mention the cashier that you wish to Add Hope of P10 or more to your meal and the amount that you gave will reflect to your receipt. This is the same process with KFC Delivery Hotline and Online where you can tell the customer service representative (CSR) or by clicking the Add Hope option on the site. The amount you will be mentioning for the Add Hope will reflect on your bill.
For as low Php 10 that you are donating in Add Hope, you are helping WFP to provide one (1) student with hot and nutritious meal. And for the whole school year for only Php 1, 800 you can fill in the stomach of a child and help him or her focus on her studies in order to fulfill their dream. Visit www.AddHope.com.ph to know more.
Add Hope is KFC's global platform for ending hunger, done in collaboration with WFP. KFC's commitment to the cause began in 2007 after Yum! and its subsidiaries established a partnership with WFP through World Hunger Relief. The participation of nearly 38,000 Yum! restaurants including across 120 countries have raised over USD110 million, out of which USD28 million is from KFC alone. In the Philippines, aside from KFC, Yum! restaurants include Taco Bell and Pizza Hut.